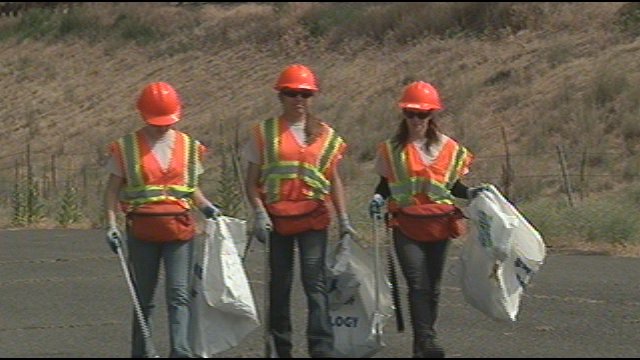 Yakima, WASH.--Teenagers are back on Interstate 82 picking up trash.
The Ecology Youth Corps has sent out five crews of workers to clean up stretches of road between Yakima and Richland.
The program hires young workers aged 14 to 17 to pick up trash along heavily traveled roads. This is the first time in four years the crew is back on I-82.
In 2009 and 2010, the state cut funding for the program and used that money to help pay off the state's budget deficit.
Last year, the program was reinstated but they were not able to get on I-82 due to heavy construction. Now, the crews are back on track and finding loads of trash.
Rod Hankinson, from the Department of Ecology said, "These crews average anywhere from 40 to 140 bags per day, anywhere from 2 to 8 miles a day cleaning the roads. So there's a lot of stuff out there."
Crew members said they mostly find beverage containers, plastic bottles, fast food wrappers and tires.
Twelve members were selected out of 125 applicants this year for the Yakima crew.
This group will work though mid-July before a second crew is hired.