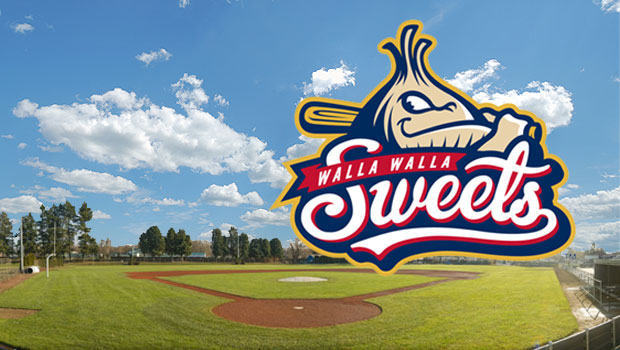 By Walla Walla Sweets
KLAMATH FALLS, Ore. – Christian Coronado and four Klamath Falls relievers combined to limit the Sweets to just four hits in a 4-0 victory in the series opener between the two teams on Friday night at Kiger Stadium.

The hottest team in the West Coast League, the Gems (12-19) won for the 10th time in 11 games. The Sweets (14-18) have now dropped back-to-back games.

On Friday the 13th, nothing could go right for the Sweets. Walla Walla left nine runners on base and struck out 12 times. The Sweets never collected more than one hit in an inning either.

Klamath Falls got on the board immediately in the first. Nick Armenta singled on the second pitch of the game, moved to second on a sac bunt, to third on a strikeout and scored on a Greg Velazquez single inside the bag at third. Velazquez was gunned down by Kris Paulino, however, trying to stretch it to a double.

The Gems would go on to score single runs in the fifth, sixth and eighth innings to put the game away. Tanner Nielsen picked up an RBI single in the fifth and Josh Wong collected RBI singles in the sixth and eighth.

Klamath's pitching staff did the rest. Coming off his sophomore season at Cal State Fullerton, Coronado struck out six batters over five scoreless innings, allowing just two hits. Brian Williams, Jeremy Burright, Thomas Eshelman and Eric Yardley combined to throw the final four innings, allowing just two hits.

The Sweets weren't without their chances on Friday. Brett Jacobs advanced to second with a stolen base in the first but was stranded and then the Sweets left six runners on base from the third through the sixth innings. Jarrod Turner started the third with a single and moved over to third with two outs but was stranded. Shane Zeile and Spencer O'Neil both reached to start the fourth but Coronado retired the next three hitters to leave them there. Kalani Brackenridge doubled in the fifth and was stranded, and the Sweets put runners on second and third with out in the sixth thanks to a Nick Vilter double but could not score. Wong robbed J.J. Robinson of two RBI and the Sweets of two runs with a diving stop at the bag at first.

Kyle Kingsley started for the Sweets but lasted only two innings, allowing one run on three hits and suffering his second loss. He was pitching well but suffered a lower body injury during his warm up pitches before the third inning. Zach Brandon came on and through well in relief, allowing two runs on five hits over four innings. Garrett Tygerson closed out the game, allowing a run on five hits.

The Sweets and Gems will continue their three-game series on Saturday night with a 7:05 p.m. first pitch. Tyler Roberts will get the ball.