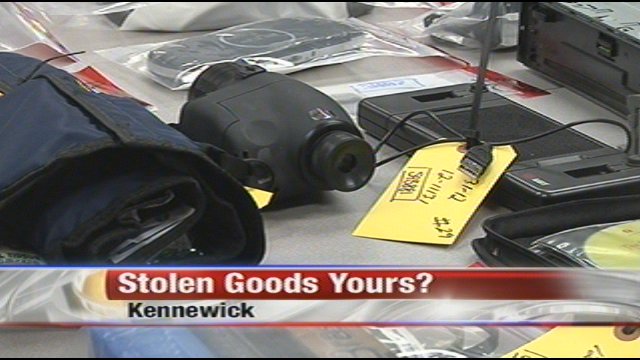 KENNEWICK, Wash. -- The Benton County Sheriff's Office wants victims of burglaries and vehicle prowls to give them a call and file a report with them.
Currently, a pile of stolen cell phones, radios, laptops, tools, jewelry, guns and knives all sits at their office waiting to be claimed by its rightful owners.
Deputy Joe Lusignan says they found it while doing a search warrant in Finley, on a separate investigation. Lusignan believes these items were stolen during a rash of car prowls in Kennewick, Finley and Pasco in the June-July time frame.
The suspect, 23 year old Thomas miller of Finely was also arrested for similar crimes in February, so the items can be from any time frame...
The items however, have not been reported stolen to their office. "We don't know if this came from one big recreational vehicle, or if its 100 different cars they were able to get in. But we do know, according to the suspect, that the vast majority of the vehicles that were entered, were unlocked," warns Lusignan.
If you recognize something, call the Benton County Dispatch at 628-0333 or sheriff's office at 735-6555 and ask for Detective Scott Runge. Some owners have already been located because the stolen items found included prescription medication, which detectives were able to recognize.