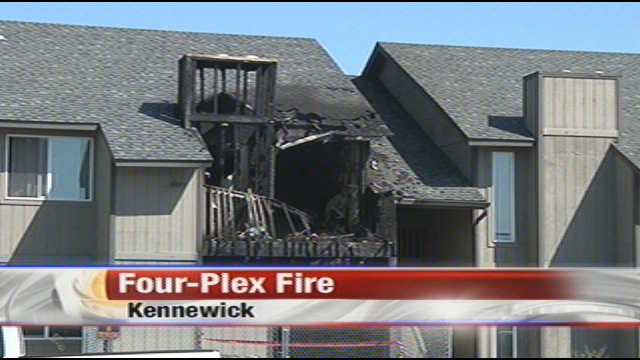 KENNEWICK, Wash., -- The Kennewick Fire Department was called to a residential structure fire early Monday morning within a multi-family 4-plex apartment building located at 6702 West 1st Avenue.
The building was fully occupied at the time of the fire which included young children. There were no injuries; however, one adult and two children narrowly escaped their 2nd floor apartment as flames entered their unit.
Fire extended into both apartments' interior areas as well as the building's attic before firefighters could bring it under control.
Firefighters from Benton County Fire District, Richland, and Pasco assisted with fire extinguishment and staffing Kennewick fire stations during the incident. The fire was brought under control within approximately 20 minutes, and firefighters continued to extinguish deep seated fire areas for nearly an hour.
The fire's cause is undetermined at this time, and will be further investigated by the Kennewick Fire and Police Department. A preliminary damage estimate for the building and the residents' personal contents is $230,000.
Any witnesses who may have seen the fire in its early stages or activities at the building leading up to the fire are asked to call the Kennewick Fire Marshal's Office at (509) 582-1303.