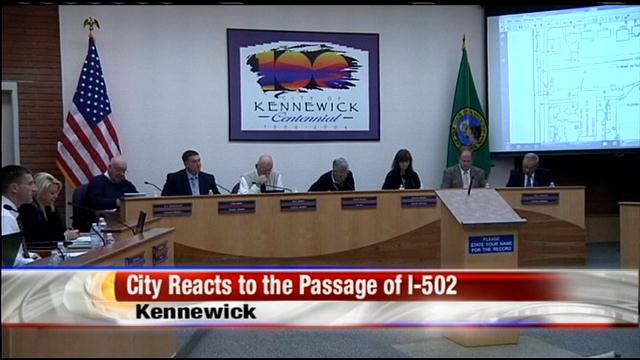 KENNEWICK, Wash.- The Kennewick City Council took care of business during Tuesday night's meeting pertaining to Initiative 502, which voters passed in the state of Washington legalizing marijuana.
In response to the passage, the City of Kennewick amended its criminal code, making the possession of marijuana and drug paraphernalia legal to follow in line with the new state law.
The council also voted to repeal the city's moratorium on collective medical marijuana gardens and adopted a provision in the city's zoning ordinance that basically states the city is not going to permit any use that is in violation of state, federal or local law.
The Kennewick City Attorney, Lisa Beaton said the city's not going to put themselves in a position of affirmatively doing anything with the collective garden. "It would seem that you don't have a medical necessity to grow your own in a collective garden if you can go to a retail establishment. If that's the intent of the state of Washington, then they need to clarify what the intent is going forward. And if it is the intent, then it would be handled by the liquor control board and not at the city level." said Beaton.
However, permits allowing medical marijuana patients the right to possess their own plants will not change because it continues to be an affirmative defense if contacted by law enforcement.